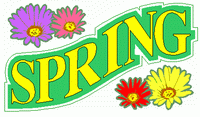 Time for an update - although there is not much to update on. Everyone is fine !! Let's start at the top.
Fi, Ben & the boys are fine. It's Easter break, so there is a 2 week school holiday starting today. Fiona has a week's leave as well. Tomorrow we are going to go out somewhere and take the kids.
We are patiently awaiting the baby's birth - not long to go now. Michelle looks like she's had enough, but she's still at work, and there's still 8 weeks to go ! Not much fun. Sean & Meg are fine. It's Meg's birthday next week - 3 years old !! They are waiting for news of when they can move into their house. It should be in the next 2 months.
Terry & Jo are fine (although I haven't seen them for over 2 weeks). I should think they are both busy - they usually are hard at work.
Baz & I are fine - not much to report ! I have been gardening (on my little hankie patch). I want it to be full of flowers this summer. Meg helped me digging ! There was more soil on her feet than anywhere else. And she had a huge collection of worms by the time we stopped for lunch. The garden is full of them ! Great big juicy fishing worms. I'll take some progress pics of the garden as I go.
That's it then - update done. Aren't we boring ? Nothing dramatic ever happens around here, thank goodness.